Actively shaping the future of mechanical engineering – an overview of the numerous ways to make engineering processes more efficient using powerful software tools from item.
At the heart of it, mechanical engineering is a particularly tech-savvy industry. Computer-aided design (CAD) software has been around for decades and new functions are being added all the time. Yet it is precisely this broad functional scope that now requires first-time users to undergo pretty arduous training. Established CAD systems have simply become too complicated for many standard engineering tasks. Developing leaner and intuitive solutions is the fundamental concept behind the ever-growing range of innovative and free software programs that item offers for mechanical and factory equipment engineering work. However, streamlining standard engineering tasks only accounts for some of the clear efficiency gains that can be achieved by using the cutting-edge online tools from item. The company's software solutions firmly anchor the principle of digital engineering in the planning process, while making the documentation and procurement processes much faster. Compatible with any standard browser, they also support flexible coordination with customers, partners and colleagues, making it easier to collaborate on projects across departments and on a global scale.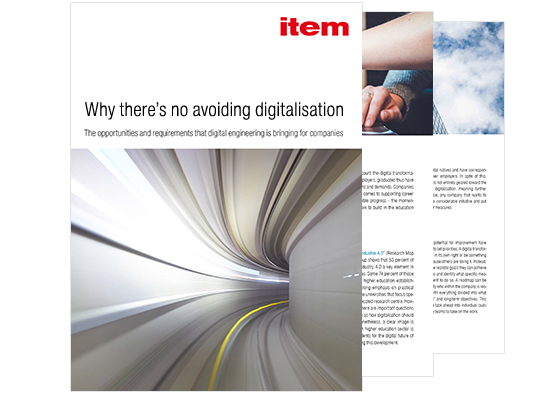 Digitalisation is a must
From training and in-house processes to business models, there's no avoiding the digital revolution in mechanical engineering. Our white paper brings you bang up to date.
GET YOUR COPY NOW
Free mechanical engineering programs – profile machining and engineering with item software
The item Machiningtool is a typical example of how innovative mechanical engineering programs can offer solutions for recurring engineering tasks. Covering all profiles in the item MB Building Kit System, this web-based tool lets users specify where fasteners should be positioned and machining work carried out on their chosen profile and then place their orders directly via the item Online Shop. What's more, complete 2D documentation is automatically generated for each project. This item software solution also offers impressive benefits when it comes to looking for the right profiles for a given project. Using the appropriate filters, e.g. maximum weight or desired length, users can reduce the large selection of profiles in the MB Building Kit System to those best suited to the job. For this purpose, a built-in load calculator shows which profiles could be used for the project, taking into account deflection and buckling.
Components can be easily placed in the item Engineeringtool's 3D environment using drag-and-drop controls, with rules-based engineering ensuring they're properly connected.
The item Engineeringtool is also based on the fundamental principle of cutting out frequently repeated work steps in engineering. This fully fledged 3D engineering solution can be used for free in any web browser and on any device with an internet connection. Components can be easily placed in the 3D environment using drag-and-drop controls, with rules-based engineering ensuring they're properly connected. When placing fasteners, the item software program carries out a plausibility check automatically, too. This ensures the end result is reliable and, under certain conditions, makes the design process up to 94 % faster compared to well-known CAD programs. There's also a direct link to the Online Shop. The user-friendly item Engineeringtool generates complete documentation for every project, making it ideal for sectors such as factory equipment engineering, where designs undergo frequent changes in line with the continuous improvement process (CIP).
Designing ergonomic assembly work benches and top-notch Linear Units
The Work Bench Configurator also features intelligent automatic processes, which in this case take a lot of hassle out of planning ergonomic work benches. The browser-based 3D visualisation, which supports a whole range of perspectives, gives users a good idea of what their solution will look like in real life. As a result, they can give even greater consideration to key aspects such as the handling zone – which is different for every individual – and adapt material supply accordingly. At the same time, revolutionary 3D assembly work bench planning enables users to custom-configure the widths of their benches and order them directly from the tool. Built-in rules and intelligent functions guide the user through the design process and prevent design errors. This is particularly important when it comes to defining and visualising an electrostatic protected area (EPA) – and item is currently the only company to offer this kind of functionality. Complete ESD documentation is crucial when seeking to clearly define an EPA and, combined with a custom ESD measurement log, ensures the design meets ESD safety requirements in line with DIN EN 613-40-5-1.
The Work Bench Configurator is currently the only tool that enables you to define and visualise the electrostatic protected area (EPA) directly within your browser.
item MotionDesigner® also simplifies a task that usually takes a great deal of effort. This particular online tool helps users dimension and select the right automation solution for a specific process. It queries information about all relevant parameters – from speed, payload and stroke length all the way to aspects such as the area of application and duty cycle. Based on this, item MotionDesigner® puts together the ideal combination of Linear Unit, Motor and Controller for the task at hand in a matter of seconds. This item software program also automatically creates complete documentation with all the technical details and CAD data for the synchronised Linear Unit. Once again, users can order their precise configuration directly in the item Online Shop. What's more, the motion profile defined during the design process for the Linear Unit can be transferred to item MotionSoft®. This commissioning software program independently checks the entire system after installation and determines the optimum operational parameters.
Are you interested in digitalisation and mechanical engineering programs? Then we have something that's right up your street! Simply subscribe to the item blog by completing the box at the top right.