Although virtual reality (VR) is now a largely established part of industry, it has taken solutions such as virtual cardboard engineering to show the technology's immediate benefits. 
Thomas Schüler, founder and one of the managing directors of software company Halocline, based in Osnabrück, is looking to revolutionise how these benefits are experienced. With his team of 37 employees, he has developed a VR software solution – also named Halocline – that is aimed directly at production and assembly planners: "Halocline offers users a virtual factory they can enter using conventional VR glasses. What's special about this virtual factory is that all work areas can be changed at any time with easy-to-use planning tools. We've developed an editor for virtual reality, enabling users themselves to create objects such as racks, tables and work benches in the virtual world." Halocline also makes it possible to turn design files from other programs into reality, and the item Engineeringtool has a pivotal role to play here.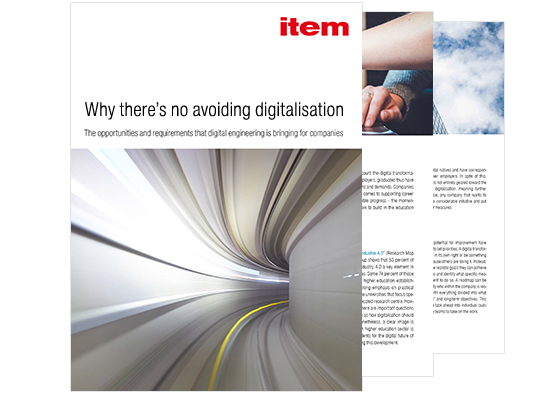 Digitalisation is a must
From training and in-house processes to business models, there's no avoiding the digital revolution in mechanical engineering. Our white paper brings you bang up to date.
GET YOUR COPY NOW
Cardboard engineering taken to a whole new level
The Halocline software consists of three different product areas that focus explicitly on the production planner's working process – "Assembly", "Layout" and "Performance". All the modules are intuitive to use: "Most production planners we've met don't work with CAD software on a daily basis. First and foremost, we'd like to give them the option of easily creating 3D data and trying out workflows in a three-dimensional space," Schüler explains. The Assembly module visualises imported product data. This makes it possible to analyse a planned product true to scale – ideal for production planners, in conjunction with design engineers, to decide the sequence in which the product is to be assembled later on. Two steps can be performed with the Layout product area. The first thing to mention here is the initial rough planning for assembly work benches and factory equipment. This step can be seen as a kind of virtual cardboard engineering.
Benefits of virtual cardboard engineering
It's well known that conventional cardboard engineering from the lean production environment uses cardboard models for practical testing of various design options, particularly with regard to ergonomics. However, the disadvantages of conventional cardboard engineering are the amount of time it takes, despite everything, and the space required, as the models are in a 1:1 format and cannot subsequently be changed any further. When it comes to construction in a virtual environment, Halocline technology clearly has the upper hand and is a perfect example of virtual reality in industry. Even the simulated construction of an entire production area requires just 4 square metres in the real world for making appropriate movements. The three-dimensional boxes that are used as a cardboard substitute are easy to produce and position in the virtual reality environment, even for newcomers.
The three-dimensional boxes that are used as a substitute for cardboard ones in real cardboard engineering are easy to produce and position in the virtual reality environment, even for newcomers.
The links between Halocline and item show the strengths of the partnership. The detailed digital design in the item Engineeringtool can be supported virtually within a small space in Halocline. If the result of this virtual planning is then implemented with the Profile Tube System D30 from item, users can benefit from the complete assembly guide from the item Engineeringtool and easily make adjustments to the end product on site using the modular fasteners. The combination of Halocline and item offers significant advantages in terms of efficiency, time and ultimately cost.
Halocline and the item Engineeringtool – strong partnership for virtual reality in industry
Detailed planning in the Layout module uses not only smaller boxes but also more tangible elements such as racks and work benches. These can be created by users themselves or imported into Halocline in the form of 3D data. Although automatic linking of the item Engineeringtool and Halocline is still in progress, users who use both programs can already benefit significantly. This means that a design from the item Engineeringtool, such as a material supply rack, can be imported as a STEP file into Halocline, where it can be experienced in virtual reality. As a result, new insights are possible – users can now, in a manner of speaking, touch the construction they have only just designed. In the Performance product area, work with the designed material supply rack is tested interactively, effectively producing a virtual practical test. These test runs can be recorded, with the movements being represented via 3D models of users themselves.
In the future, it'll be possible to transfer designs automatically from the item Engineeringtool to Halocline – and vice versa. There are also plans to provide an item application catalogue in Halocline.
"I can put the rack from item I'd like into the virtual Halocline factory and add load carriers and material as appropriate. And I can check the ergonomics of the entire workflow," says Schüler. During simulation of a workflow, if users notice that measurements need further adjustment, they can make custom changes to the design in the editor of the Layout module. They can then send these adjustments to the item Engineeringtool, where they can easily submit their order. Comprehensive project documentation for the design can also be created at the touch of a button. These data transfers will be made even simpler in the future thanks to an easy-to-use function. There are also plans to provide an item application catalogue in Halocline. Focusing on ergonomics and easy-to-use online tools that give employees a high level of design freedom to create the factory of the future, Halocline and item offer key benefits in terms of speed and efficiency. We're looking forward to continuing our work together!
Are you interested in digitalisation and what the future of mechanical engineering holds? Then we have something that's right up your street! Simply subscribe to the item blog by completing the box at the top right.