In this interview, Dennis Lenkering, Managing Director of Lenkering Montage- und Zerspanungstechnik GmbH, talks about the future of automation in SMEs.
In discussions about digitalisation in mechanical engineering, the fields of Industry 4.0 and robotics are becoming increasingly important. At the same time, it's understandable if your mind immediately turns to huge smart factories or large-scale robotics applications. Yet SMEs should also not shy away from these groundbreaking trends, as can be seen in the experiences of Lenkering Montage- und Zerspanungstechnik GmbH (LMZ), from Steinfeld in Lower Saxony. The company is part of the item pluspartner network, and specialises in developing customised automation systems. It also has extensive expertise in applications for Industry 4.0 and robotics. We have already reported on the MP EcoLine® series for semi-automated assembly and inspection processes and the intelligent gluing system 465 (with robot support) from LMZ. For this blog post, we sat down with LMZ's Managing Director Dennis Lenkering for an in-depth interview.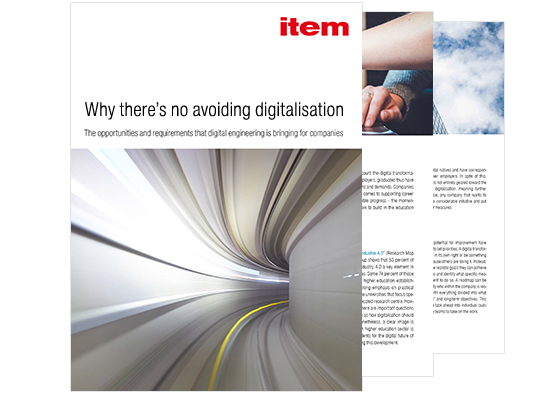 Digitalisation is a must
From training and in-house processes to business models, there's no avoiding the digital revolution in mechanical engineering. Our white paper brings you bang up to date.
GET YOUR COPY NOW
Industry 4.0 – potential for SMEs and a perfect start
At first glance, the concept of Industry 4.0 may sound quite abstract, and it would be easy to assume it is only relevant for large companies. So why should SMEs bother themselves with Industry 4.0?
Even smaller companies have numerous automated processes these days. It is therefore worthwhile thinking about using the process data that is generated by automation anyway. Everyone generates data all the time in their private lives – and other companies are already using our personal details so as to draw conclusions. Why shouldn't this happen in mechanical engineering, too?
That's not the only reason why I think SMEs in particular should take a closer look into the world of Industry 4.0. There is also the clear advantage they have over larger companies – the whole procedure relating to using data is much more complex and sluggish for big players than it is for SMEs. As a result, SMEs are able to quickly implement innovations – much more quickly than larger companies.
What do you think are the biggest challenges when introducing Industry 4.0 in SMEs?  
I think the biggest challenge is making a start. First of all, you have to create acceptance of data gathering within the actual company. There is often a degree of scepticism about data protection, as some mistakenly fear that it's about tracking which employees are achieving greater output.
The biggest challenge when it comes to introducing Industry 4.0 is getting started – that is to say, creating acceptance of data gathering.
Of course, you do have to be a bit careful when it comes to data, but as long as everything is generalised and anonymised, it should be possible to establish an appropriate level of acceptance in the company. On top of that, there is the uncertainty about which processes can actually be digitalised and where to start – what data should I collect first? And then what do I link it with?
So how should SMEs go about establishing automated production?
We recommend taking it one step at a time. At LMZ, we therefore put together a 4-step plan that is ideal for automation in general and Industry 4.0 in particular. The best thing to do is to start with a pilot project and say to yourself: "Okay, I'm going to start with this automation now. I'll gather data and learn from it." You'll soon find out that this translates into a pretty big advantage. Then you move on to the next processes.
How SMEs can use Industry 4.0 to move to automated production
How would you describe the relationship between automation and Industry 4.0?
A fair description would be a kind of further development with digital technology. It is a new level of industrialisation. As I said, it would be ideal to gather the data generated by processes that have already been automated and then learn from that data.
The way things are at the moment, there's a fault somewhere, and then the whole system goes down because of that fault. That makes it impossible to achieve production targets. This often gives rise to the question: "We've got automation in place, so how did this happen? Where's the fitter?" But it takes the fitter two days to get there.
"It is advisable to input the production data during the first four months of production so as to define the normal conditions."
There are usually teething problems as soon as a new automated system arrives in a company. Once the automation is up and running, however, the project manager's work is done and since that project is complete, the project manager moves on to the next one. No one looks at the system anymore – until there's an issue with it.
What would you recommend instead?
It would be better to input the production data during the first four months of production so as to define the normal conditions within the parameter range of the various sensors.
If I know my parameters are already at 80 percent, for example, it's much easier to plan my downtimes. In most automated systems, these occur when it's necessary to clean something or replace a part that has perhaps become worn. When the parameters hit 100 percent, I know that the machine will go down.
That's when I should plan on manufacturing an extra 1000 pieces, for example. After all, I won't be able to produce them the next week, because I know the machine will be down for maintenance on Monday and Tuesday. What's more, I can book the fitter with enough notice and know for sure that the system will be fully operational again from the following Wednesday.
It's all about just-in-time delivery. Stockkeeping is a thing of the past, everything is produced and then delivered. And if I can't deliver straight away, and that brings the production line at a car manufacturer to a halt, the costs involved can be extremely high.
The great potential of robotics for SMEs
Robotics is a great poster-child of automation, and one of its trending topics. What are the core benefits, in your opinion?
No question – the most important one is the flexibility it offers. Once I've bought a robot, I don't have to keep using it for one and the same article. Instead, the robot can be used for a whole range of things. A modular robot cell is a perfect example of this. It can produce one thing for eight hours, then you move the robot model to the next machine and it spends another eight hours producing something else.
The costs of purchasing a robot system can be spread over several projects, since the robot can be used for a variety of articles.
The whole thing is also very worthwhile when articles are being produced in small batch sizes, as although you have to procure the robot system, that one project doesn't have to carry all the costs. Instead, the price can be spread over several projects, since the robot can be used for a variety of articles. This boosts the capacity utilisation of the robot and the system pays for itself sooner.
The load it takes off employees is also important. It's always beneficial to use robots for monotonous activities that are not ergonomic or tasks that involve heavy weights. In these cases, using robots is ideal for saving employees from having to do these tasks, freeing them up for other processes in the company.
Robotics sounds like an expensive and complicated concept. How much does it really cost?
There are huge differences within the field of robotics. It all depends on what kind of robotics solution is to be used how and where. In fact, the process that is to be automated already defines what kind of robotics can be used.
You have to consider whether lighter or heavier weights are going to be lifted. The following questions are also important: What kind of range is required? Is there a very small working area or do you have to get from A to B across a much larger area to package something? And the time this all takes – the cycle time – also feeds into the considerations.
For example, if I have lots of time and not much weight and I want to do without conventional safety technology, then cobots are a worthwhile option. Due to their special safety requirements, these are very slow. If a cobot should touch a person, this happens slowly, so as to avoid the risk of injury.
However, if I am dealing with a tight cycle time or heavy weights, then I can use a normal industrial robot. Despite the safety equipment involved, this can still have a mobile design.
It all depends on the process that is to be automated. And the costs are then based on that. If I don't have to do much with the robot, it has lots of time, and doesn't have to handle much weight, then the costs are relatively low. The greater the requirements, however, the more expensive it becomes.
Profile technology from item – perfectly suited for Industry 4.0 and robotics
As an item pluspartner, you must be very familiar with the components from item. What advantages do these offer for robotics and Industry 4.0 in particular?  
Modularity is the biggest plus point. One of the key advantages of robotics is its versatility. We construct all our systems using item profiles. The advantage is that item offers us the possibility of extending this versatility to the frame, too. As a result, when a customer intends to use the robot for three articles, but then this is extended to four or five, it's a given that the robot is flexible, I just need the same flexibility in the housing.
We construct all our systems using item profiles. The advantage is that item offers us the possibility of extending the flexibility we know the robot has to the frame, too.
I therefore have to be able to expand the housing and keep it flexible, even if it's already been in use for six months. This means it can be adapted to its new surroundings. We always hear that in our customer feedback: "It's easy for us to just add something on." That's not possible when you're dealing with a welded frame.
The fact that the item profiles are made of aluminium, and are therefore lightweight, is another bonus. It's a lot easier for workers if I've got modular cells on castors that need to be moved from system A to system B. This is a manual job. A steel construction would weigh about three times as much. Production facilities also don't have much space to spare, so there's no room for a pallet truck or forklift. It's ideal if cells can be kept mobile and lightweight as a result of the aluminium profiles.
Are you interested in digitalisation and what the future holds for mechanical engineering? Then we have something that's right up your street! Simply subscribe to the item blog by completing the box at the top right.