Discover how the digital infrastructure at item and the company's Projectviewer, with its 3D assembly guides, make day-to-day assembly work easier. 
Whether it's in the form of assistance systems or online product guides – elements of digitalisation are increasingly making their way into manual assembly. Although we have not yet reached a point where an additional digital workstation can be found at every assembly work bench, there is usually at least one central digital solution providing employees with key information. This solution will often be some kind of special hardware suited to the particular circumstances of the production environment. For example, it might have special protection from vibrations, dust or oil. In addition to industrial PCs, thin clients are a popular solution. These are simplified computer systems used to access the computing power of a central server. Due to their compact design, they can be integrated into work benches with the help of Thin Client Holders, thus taking up very little space. Another option is robust industrial tablets, which can often be operated while wearing work gloves. This shows that there are certain requirements that need to be met to achieve the optimum digital infrastructure for an assembly environment. The functions of the Projectviewer – part of the item Engineeringtool – offer a perfect example of just how much support digitalisation has to offer for assembly operations. The Projectviewer breaks down the barriers between the analogue and digital worlds and combines engineering data, information on the components used and an assembly guide.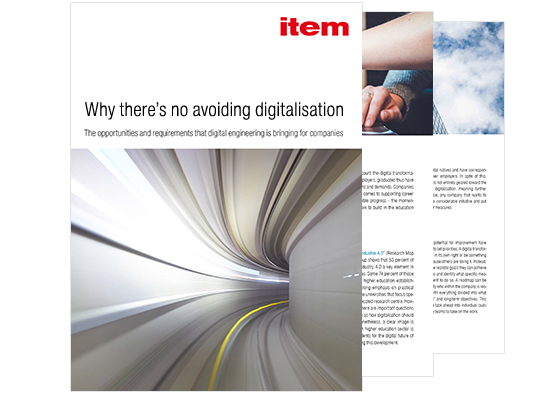 Digitalisation is a must
From training and in-house processes to business models, there's no avoiding the digital revolution in mechanical engineering. Our white paper brings you bang up to date.
GET YOUR COPY NOW
QR codes on components take you directly to the Projectviewer
The Projectviewer offers fitters a digital tool that actively supports them in their work. It is very similar to the item Engineeringtool, but a more simplified version that is used to view projects rather than design them. All you need is the CX article number. Every design from the item Engineeringtool that has been placed in the shopping cart will have one of these internationally unique article numbers. This makes designs easy to share on a general basis. For example, designs can be shared via their specific article number, but also by using the QR code or the link on the cover sheet to the project documentation. This means that even if you only have a printout of the project documentation, all you need to do is scan the QR code to go directly to the Projectviewer on your smartphone or tablet.
All you have to do is scan the QR code on the label of a profile and the Projectviewer will show you where it has to be installed and let you query further information.
The major advantage this offers for assembly work is that each machined component features a label that includes a QR code. Simply scan the QR code on a profile – and the Projectviewer will generate a realistic 3D representation of where the profile is to be installed. This is a perfect combination of the analogue and digital worlds.
Digitalisation provides round-the-clock access to information for assembly and more
Everything is interconnected. With just a few clicks in the Projectviewer, you can access the project documentation, which contains a project overview, information on the machined profiles, a multiview projection with the internal and external dimensions, an exploded view and an assembly guide. All this can be used on a mobile device on site or printed out. It's similarly easy to jump from the Projectviewer to the item Engineeringtool in order to make adjustments, find CAD downloads or access the shopping cart to place another order. If you have any questions about a component, additional (catalogue) information can be accessed in the properties window by clicking an information button. The dimensions of the individual components are also displayed in the Projectviewer. After all, ease of use and a positive customer experience are top priorities. Everyone who is involved in the whole process can view the information they need at any time, and all information is shared digitally from end to end – no need to send around emails with attachments anymore.
Animated 3D assembly guides – how digitalisation is speeding up assembly
This will likely come as no surprise to anyone who has already worked with our profile technology, but when it comes to larger projects, it's not just about correctly positioning components, but also doing so in the correct order. It's about finding the right "assembly strategy", so to speak. This is because some fastener types have specific features in relation to the assembly sequence that can cause obstructions. There is now a new function in the Projectviewer that not only illustrates the recommended sequence, but also brings it to life in a visually unique way. All you need to do is click "Assembly guide" and the Projectviewer will calculate the ideal assembly sequence and present an animation of the assembly process for each component. You can click your way through the guide step by step and can repeat everything as often as you like.
We offer users time-saving 3D assembly guides with the recommended optimum assembly sequence and, thanks to the Projectviewer, a completely digital information infrastructure. This brings the analogue and digital worlds together and enables everyone involved in the process to quickly access the information they need.
The fact that the fitters on site can view an ideal assembly process on their end device and also access all the relevant information saves them a lot of time. They don't have to know all the components in great detail because our designers have already put their decades of experience into the software for them. Even if the fitter already has a plan in mind for the assembly, he can reassure himself and mentally prepare for the work ahead. These 3D assembly guides are not just centred around the digitalisation of assembly work, they are about digitalising item products themselves, too. Their properties, which are obtained from digital images in the item Engineeringtool and Projectviewer, are used to create a logic that serves as the basis for generating the recommended assembly sequence. Ultimately, however, this sequence is just a well-thought-out proposal, and users are completely free to take a different approach.
Are you interested in digitalisation and what the future holds for mechanical engineering? Then we have something that's right up your street! Simply subscribe to the item blog by completing the box at the top right.